B1A4 (비원에이포) is a South Korean quintet boyband, formed by WM Entertainment in 2011. Debuting as 5-Member Group, consisting of Jinyoung (Leader), Baro (Rapper) Sandeul (Main Vocalist), Gongchan (Maknae), and CNU (Vocals) under WM Entertainment. They were introduced through an online webtoon. [1] They debuted publicly on April 23, 2011 with their single O.K. from their debut EP, Let's Fly.
Promotion and DebutEdit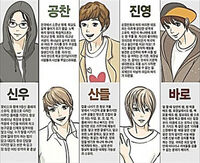 The members of B1A4 were first introduced via webtoons, which can be accessed via their
official website
. The webtoons included another character, named Anna, which once rumoured that she'll be the female lead as well.
[2]
On April 20, 2011 they released their first debut single with it's MV, "O.K.", which later became the headlines among the K-poppers. The song received a lot of anticipation, though they're not charted yet.
Let's Fly and It B1A4Edit
After released their first single, they released their first EP, Let's Fly in April 21, 2011. The EP includes a song written and composed by the leader, Jinyoung.[3]. They later became the headlines among the K-poppers.
In April 23, B1A4 debuted on MBC's Show! Music Core, performing O.K. for the first time in TV[4] and guest starred on Starry Night Radio, making their first debut on Radio also.[5]. They begin to performed at many TV Programs, such as M's Countdown[6], Music Bank[7], and Inkigayo[8]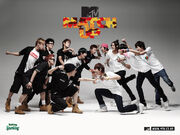 In June 22, B1A4 featured on the first run of MTV's Match Up!, along with another new group, Block B[9]. With the total of 8 episodes, the show allows both groups to show off their musical talents and unseen charms through weekly missions and behind-the-scenes footage of their daily lives as newcomers to the Korean
pop scene. The program also revealed the group's follow-up promotional single, Only Learned the Bad Things, which released on July 13, 2011.[10].
B1A4 returned with their 2nd EP, It B1A4 on September 16, 2011, and released their new lead single, "Beautiful Target", which is composed by Jinyoung, with Baro and CNU on the rap parts. The single is highly anticipated that received 1 million views on youtube within a week. The album itself was recently ranked at the top of Kyobobook, Aladdin, Interpark, Yes24, Apple Music, and others for having the top number of presales.
Name

Hangul

Birthname

Birthday

Birthplace

Position

Jinyoung
진영
Jung Jin Young (정진영)
November 18, 1991
Cheongju
Leader
Lead vocalist
Composer
Sandeul
산들
Lee Jung Hwan (이정환)

March 20, 1992

Busan
Main Vocalist
CNU
신우
Shin Dong Woo (신동우)

June 16, 1991

Cheongju
Vocalist
Lead Rapper
Baro
바로
Cha Sun Woo (차선우)
September 5, 1992
Kwangju
Main Rapper
Gongchan
공찬
Gong Chan Shik (공찬식)
August 14, 1993
Suncheon
Maknae
Vocalist
Etymology
Edit
The group name, B1A4 is explained to be the abbreviation of 'Be The One, All For One'[16], with the meaning of 'the best is formed when 5 become 1'. The idea was also conceived by 4 of the 5 members having blood type A (which is Jinyoung, Sandeul, CNU, and Gongchan), and 1 having blood type B (which is Baro).
Discography
Edit
External Links
Edit
References
Edit
Community content is available under
CC-BY-SA
unless otherwise noted.